Halina Feldblum-Abileah
In her prime (about 1950)
Farewell to my Mother:
On April 7th, 2003, my Mother Halina Feldblum-Abileah passed away in Israel, after years of enduring pain and sorrow. She lost her beloved husband Hans Abileah in 1967, her beloved daughter Amira Abileah-Krol in 2000, and her beloved sister Yael (Yadwiga) Feldblum-Weinstein, in 2001.
In the past few years, Halina Abileah battled the advanced stages of osteoperosis, suffered many falls and fractures, and was constantly in pain. She requested that we respect her wish that there be no funeral or mourning. She wrote "just [keep] the memory that I loved you all!"
At least now she is no longer in pain.
My Mother, Halina Feldblum-Abileah, was a strong and impressive personality. She was an accomplished fashion designer in Israel, and would have preferred that we still remember her as a young, striking beauty, energetic, charismatic, healthy, successful, graceful, elegant, and admired by many.
Halina Feldblum-Abileah
at 21 1936
Halina Abileah is survived by her grandchildren (Amira's sons) Amit and Hovav Krol,
her great grandchildren Youval Krol (daughter of Amit and Zlila),
Ella and Ori (daughter and son
of Hovav and Zahavit),
her grandson Rami Negev (Ilania's son) with his wife Tara,
Ron* and Marlene Abileah,
whom she loved dearly,
and her daughter Ilania.
* Hans Abileah's son from another marriage
Halina and Amira
About 1950
Halina's Travels 2001
In April 2001, Marlene and Ron Abileah, brought Halina to Washington, DC, then on to my house for Passover. After a week with me, she flew to San Francisco to visit Marlene & Ron in, San Carlos, California.
In July of the same year, she came all by herself (in a wheel chair) to Morin Heights again, to take part in her third grandson Rami Negev and Tara's Wedding in Montreal, July 14th, 2001.
All our friends and family were impressed by her courage, clear mind and sharp wit and of course, ellegance.
Mother preparing delicacies for Marlene & Ron
At their home in San Carlos, California April, 2002
Ron and Halina in front of the White House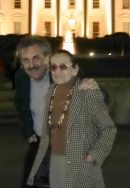 April 5, 2001
Mother in the center, Seder 2001, Morin Heights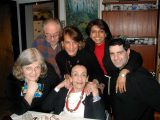 with Ilania, Ken, Marlene, Tara and Rami
The last happy family event that Halina Abileah took part in.
From left to right:
Tecia Webowski, Marlene & Ron Abileah, Tara & Rami Negev,
Rina (a friend who took the wedding photos),
Ilania Abileah-(Negev), Michael Webowski, HALINA ABILEAH
July 14, 2001 - Rami & Tara's Wedding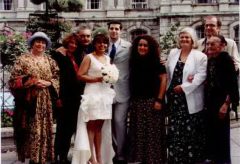 Halina (held by Michael Werbowski) and family in Montreal
Hans Aharon Abileah, in 1946 - Halina's husband
Father of Ron, Amira and Ilania
Amira (Ami) Abileah Z'L
Mother of Amit and Hovav Krol (About 1958.)
The two people dearest to my Mother
Hans Abileah Z'L, her beloved husband
Amira Abileah Z'L, her beloved daughter.
I am certain that my Mother
would have wanted them to be
remembered with her.