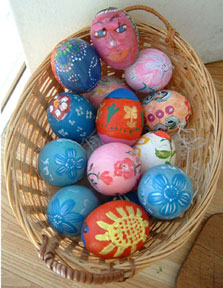 Connie Gilbert Reports from Florida - April 2006
Dear Family: I'm so pleased still to be on the list as I think of so many of you often . . . and would so love to know the others of you better. (I loved those dragon boat pictures -- remember, please, that Key West is a lovely place to visit, and family has a standing invitation; we now have a cute guest cottage walking distance to everything in Old Town, including the beach.)
Meanwhile, my news: son Shadrach (ne Scott) (that's what comes from letting a kid major in philosophy/religion at Sarah Lawrence!) married Jessica Gerson-Gerard 7/3/04 in Hackensack, NJ; she hails from Fair Lawn and is finishing a PhD in linguistics at the U of Arizona. They met at Sarah Lawrence an eon ago . . . . He's finishing up at Ohio State Law School; they plan to stay in Columbus (Bruce's influence!).
Son Devin, a piano pro—playing, restoring, reselling and, for a year, music director for Disney Cruise Line) married Julie Alonzo of Escondido, CA (where they still live) in a surprise Jewish wedding in LaJolla last 10/22; her 5th generation Spanish/Mexican-American nominally Catholic family said it was just the way a wedding should be?!? Hurricane Wilma extended our stay a whole week as we couldn't get home . . . . Lost Barry's computer cave but cottage and house were dry.
Journalism sticks to me: I'm doing an art column (surprise, Mookie!) -- too many theater critics, unfortunately—and am still an active volunteer—especially NOW, ACLU, Equality Florida (statewide GLBT civil rights group), Literacy Volunteers and a chamber music group now 35 years old.
I'm getting a little old and creaky, but otherwise all is well (Medicare's nice). (Was in Columbus in late March for an unveiling -- Millie Schuster, a cousin on the Gilbert side—and it snowed! --still recovering.)
I've become resident educator on all things Jewish (!) for the local UU Fellowship and will lead their (+/-) 6th annual Seder Thursday. Prepared them with a sermon: "Who Is Slave,Who Free?" (Our local synagogue is really conserva-dox in ritual although quite tolerant re: equity, social justice, etc. I'm as active as I can be with them, ex: edited their April bulletin last month, before I left for Ohio, but it hasn't been sent out yet—no malice, just disorganization. Pity!)
With hugs to you all, and best wishes for a wonderful Pesach (and no indigestion)! Love, Connie Gilbert.
N.B. Connie added a note: "I really have to learn to send pictures electronically." So I have inserted a shot of my Passover painted eggs. Mookie.