The origin of the names
Russotto and Abileah
Feiga with sons Ephraim, Arie, Baruch (Barnet)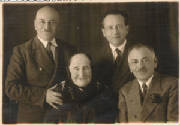 Ephraim & Arie Niswitzsky-Abileah Baruch Russotto
Click on image to enlarge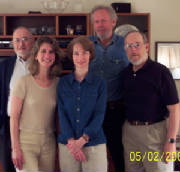 Picture 2 - at the Arnolds 2 May 2004
May 15, 2004 -
Steve Arnold
writes: We had a "mini-reunion" of our family here a few weeks ago. Here is a lovely gathering of direct descendants of Abileah and Russotto forebears.
Picture 1 - Top, left to right:
Henrietta (Russotto) Mandel, Gail (Russotto) Cohen, Cecile (Russotto) Arnold.
Bottom: left to right: Ben Arnold, Alison Arnold, Brianna Arnold, Sandra Mandel, Jon (Abileah) Bendor.
On the bookcase upper right corner is a photo of another descendant of the Russottos: Leah Arnold -- daughter of Cecile and Steve, granddaughter of Dan and Bea Russotto!

Leah, now 42, has matured considerably since that photo was taken.

Picture 2
- Left to right: Ernie Cohen (Gail), Marlene Arnold (Ben), Jean Bendor (Jon), John Brentlinger (Sandra Mandel), Stephen Arnold (Cecile)
2003 - Cecile Russotto-Arnold writes:

On January 5, in Los Angeles, Steve and I had a wonderful visit with my fatherıs cousin, Milton Russotto, his wife, June, and their daughter, Barbara Wolfe. Though I had known about Milton, we had never met. He moved to California in the early 1930's, and stayed put.

Milton is past 90, tall and still quite sturdy. June, who is being treated for some medical problems, also looks wonderful, and is very peppy. Barbara, who had shlepped in quite a distance from her home, arrived bearing wonderful things to eat, and we spent a very pleasant couple of hours. Milton said how touched he was to be ³found² by family, but it was we who were really touched by the chance to connect with these lovely relatives.

Milton and June's apartment is filled with beautiful paintings; it wasnıt until late in the visit that I realized that Milton was the artist! This was his avocation; his career was as an optometrist. They will celebrate their 60th wedding anniversary in 2003.

We talked about the family tree, and I got some information which clarified some things for me; once they get entered into the data base, I hope they will help others as well. A key point is that Miltonıs father, Barnett Russotto, married Florence Solzman, thus creating the link between the Niswizski and Solzman families.

I have two stories to share from our visit:

1. Whenever I'm with the extended family, I bring along a formal photo of my grandmother, Louisa Russotto, and her four (adult) sons (a copy of the photo is attached.) Anyone who has known our branch of the family usually first identifies Leo, or possibly my father, Dan. When Milton looked at the photo, his first response was "There's my Aunt Lizzie!" Then he went on to recognize his cousins, especially Alex. Thinking about his response even now gives me a warm feeling.

2. I asked Milton how his father, Barnett, happened to take the last name 'Russotto' since I had always understood that Russotto was the family name of my grandmother (the same Louisa), and that my grandfather had taken it when he came to America because
a) it was easier to spell and pronounce than Niswizski;
and b) it sounded Italian, which might help him establish his career as a musician.
So why had Barnett taken the same name? Because they were brothers, and they wanted to have the same name, was Milton's explanation.

Perfectly, reasonable, yes? What gave me a chill -- and a thrill -- is that this was exactly the same explanation that Arie Abileah gave us (in 1974) in explaining why his brother Ephraim (when he moved to Israel and wanted an 'Israeli' name) took Arie's name "Abileah", which means 'father of Leah.' "It isnıt nice for brother to have different last names," is what he told Ephraim.

It's easy to understand why our visit was so rewarding!
17 May 2004, the following photos were received from Irv Russotto:This is the family of Irving Russotto. Brother of Cecile. This description is for the picture in front of the Bookstore restaurant.
From left to tight. Steven Katz (husband of Wendy Russotto Katz) Myrna Russotto (Wife of Irv) Irv Russotto (brother of Cecile) Back: Wendy Russotto Katz (daughter of Irv) Front: Alexis Katz (Grandaughter of Irv) Eli Katz (grandson of Irv) Dan Russotto (nephew of Cecile) and Dana Russotto (Wife of Dan)
Myrna & Irv live in Knoxville, TN. All of the other members of the Southern contingent of the Russotto family reside in Atlanta, GA.