2013
Yaeli & Eyal Goldberg proudly announced the arrival of their Baby Dan who was born in New York (City) March 14 2013. Mother Yaeli says "He is lovely and adorable ..." Here is the picture uploaded with our congratulatory saying "Mazal Tov" to Yaeli and Eyal, whose wedding I attended in Israel July 9th, 2008 (see below). Ilania
Yael is daughter of my Efrat (my cousin) and Yair Lifshitz.
You may click on images to enlarge or to navigate.
Yael Yogev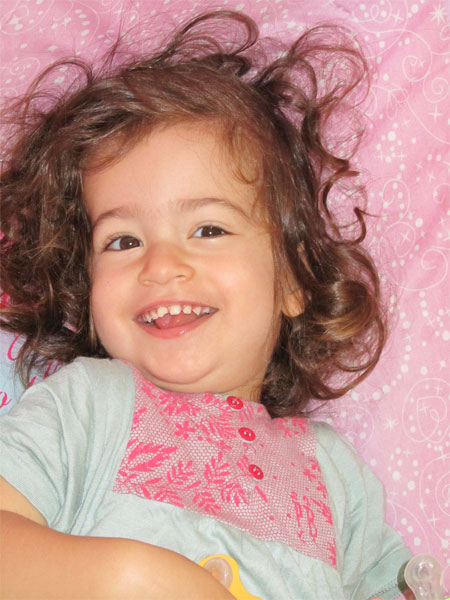 Inbar Yogev
August 2010

My Cousin Zwi Yogev advises that his son Rivi and his wife Efrat have a new baby girl a sister to Inbar: Yael Yogev

3,940 kg (8 lbs. 6 oz.) born August 23, 2010
August, 2010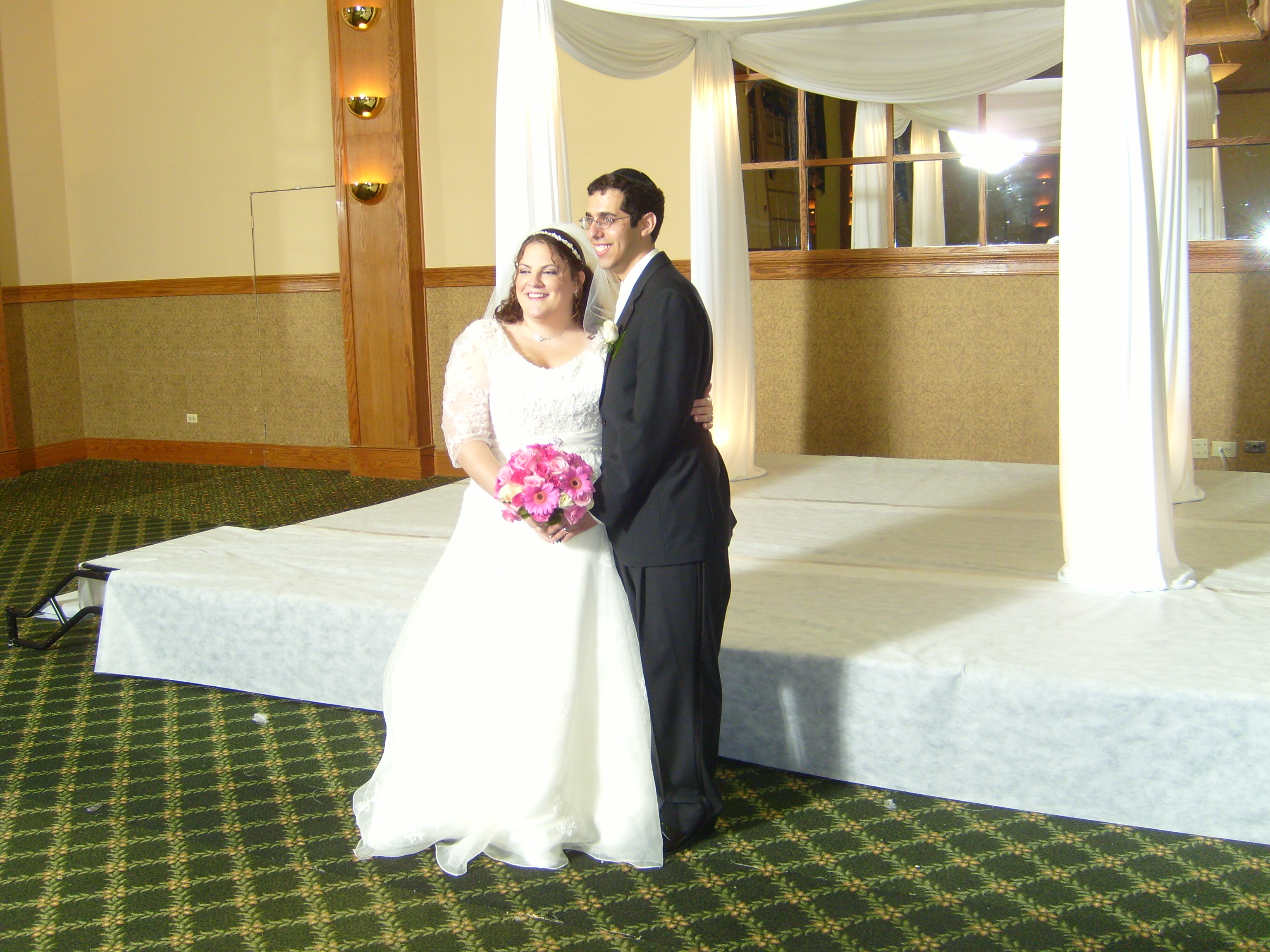 On August 10, in Northlake, IL, Marc Solzman, son of Jerry and Sheri Solzman of Louisville, KY married Andrea Lazor, daughter of Allen Lazor of San Francisco and Mindy Lazor of Round Lake, IL. Marc and Andrea live in Indianapolis, IN.
November 2008
Jonathan Bendor (Jon) provided the Obituary the family placed in the local papers for his father Harry Zvi Bendor, Z"L:
Harry Z. Bendor of Northborough, MA passed away on Saturday November 8, 2008 at the age of 95. Harry is survived by his loving wife of 71 years Miriam (Abileah) Bendor and two sons, Giora A. Bendor and Jonathan Bendor, as well as five grandchildren and two great grandchildren. Harry was born in Warsaw, Poland January 21, 1913 and was the son of Samuel and Helen Borkowski. He immigrated to Israel in 1923 where he met Miriam. Miriam and Harry were married in 1937. The family immigrated to the USA with their two sons in 1957, first settling in New Rochelle, NY where he was President and owner of Helena Nitewear Co. NYC. and retiring in High View, NY in 1976. For the last 12 years Harry and Miriam enjoyed their retirement in Northborough, MA. At the family's request all services will be private. Hays Funeral Home, 56 Main Street, Northborough, MA is assisting the family with arrangements. For on-line condolences please visit:
www.haysfuneralhome.com
October 2008
Zvi & Gila Yoget became grandparents. Efrat & Rivi Yogev had a baby girl INBAR born in Haifa on Friday, October 17th. at 02:47 a.m.
August 2008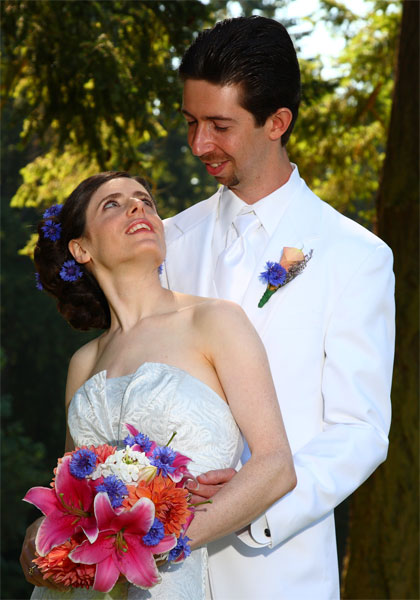 Summer 2008. Attended two weddings:
In Isarael - Yael & Eyal Goldberg July 9th.
In USA Seattle, Wa: Shahaf & Pnina Abileah.
More to come.....about these two wonderful events.
July 2008
Yael Lifshitz (Daughter of Effi & Yair Lifshitz) married Eyal Goldberg, in Israel on July 9th, 2008.
May 2008

Jerry Solzman passed on this item provided by Chandra (Patty) Becker and Don Judges: An exciting new three-act drama about human communication written by Donald P. Judges, E.J. Ball Professor of Law at the University of Arkansas, and Stephen J. Cribari, Distinguished Visiting Professor of Law at the University of Minnesota Law School, will premier May 8, 2008, in Minneapolis, Minnesota. Radio Traffic portrays two emergency services radio dispatchers as they struggle with events, and each other, during one night's shift. Radio Traffic will run May 8-17, 2008, at the Center for Independent Artists, 4137 Bloomington Ave. So., Minneapolis, MN 55407 (for more information, call 612-724-8392, or visit the theater's website at www.c4ia.org) Alastair Pearce, President of Rose Bruford College in Kent, England, a leading drama school in the United Kingdom, described Radio Traffic as "clever, authentic, witty, funny, tense, poignant at the end, and very believable." It is Judges' and Cribari's second collaboration.
April 2008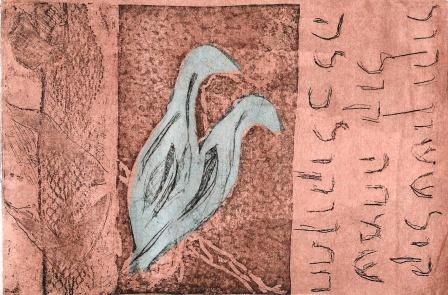 During summer 2008 the Abileah family will have "Kol Sasson VeKol Simcha....." In Israel and in the United States. Lots more news and photos to come.
Please see note below about Ernie Cohen Z'L.
March 2008
Dr. Norman Cohen, 80, died Monday, February 25, 2008. He was an Allergist who practiced in Louisville for many years. Dr. Cohen was a member of the American Academy of Allergy, Greater Louisville Medical Society, Phi Delta Epsilon Medical Society, Kosair Temple, Scottish Rite, Bowling Green Lodge #73 F& AM and the Balloon Society of Kentucky. He is survived by his daughters, Karyn (Jerry) Harden, Lori (Mark) Hall, Terri (Michael) Baker of Berea, Kentucky, Wendy Sur Cohen of N. Palm Beach, Florida and Nancy (Michael) Wasserman of Quincy, Illinois. Funeral took place Thursday, February 28, 2008.

January-February 2008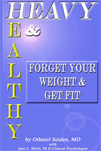 Cousin Otti Seiden Writes:
I've been resuming my writing career and my publisher, Thornton Publishing is having a book launching March 7th for 5 of 7 new books for 2007-8 ... 5 self help and 2 novels. They plan 6 more in 2008 in a Boomer Book Series. A guy has to do something in his spare time!
The self help books are in a Boomer Book Series and include:
Heavy and Healthy ... forget your weight and get fit....
The Second Half Begins at 50 ... your longevity handbook....
Sex in the Golden Years ... the best yo ever had....
When Your Spouse Dies ... a widow and widower's handbook...
The Hospice Experience ... what to expect from hospice care....
The historic novels are:
The Cartographer - 1492 ... a novel about the Spanish Inquisition and the Columbus expedition....
The Remnant ... a novel about the Babi Yar massacre and the Jewish resistance movement against the Nazis in WWII
They should be available on Amazon.com and links if you Google Othniel Seiden as well as on the publisher's web site www.bookstobelievein.com as well as in book stores as the come off the press.
June 2007
The wedding of Angela Chang and Alexander Ophir, son of Johathan & Karen Ophir, took place on Saturday, the twenty-third of June 2007, at the Rattlesnake Point Golf Club, Milton, Ontario, Canada.
(Unfortunately I could not attend due to a leg injury accident. Ilania)
Cousin Otti passed on a message from Gail Cohen, and Cousin Jerry found the following information: The Lexington Herald-Leader Guest Book for Irwin G. 'Ernie' Cohen will remain online until Jun 11, 2008.
COHEN Irwin G. "Ernie", 71, husband of Gail R. Cohen, passed away in Vancouver, WA on June 8, 2007.... Besides his wife of 48 years, he is survived by son Alex (Sara) Charney Cohen of Vancouver, WA, daughter Elaine (Steven) Silver of Deerfield, IL; grandchildren, Zachary, Charly, and Jared Charney Cohen and Robin and Melanie Silver; sister, Esther Weitzman of Aptos, CA and a sister-in-law, Isabel Russotto, Lexington.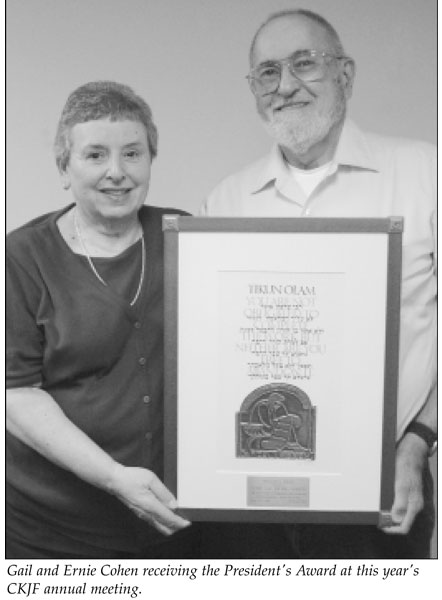 The article ends with the words: "This biography strikes several strong chords: loyalty, longevity, lifetime dedication, leadership. This year's CKJF President's Award, presented to Gail and Ernie on June 28, 2006 at the annual meeting, summed it up beautifully; it reads: "For many years of commitment and leadership".
December 2007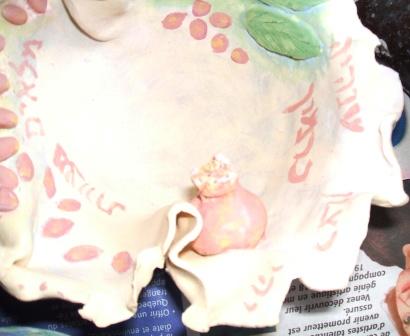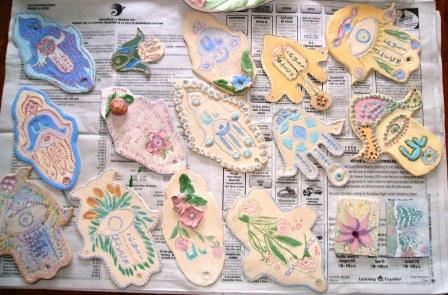 November-December 2007: I have started a new line of miniature painting on ceramic, including hamsas with traditional symbols and blessings....here are a few ready to kiln. The collection also includes plates designed for traditional holiday servings as well as poetry and illustrations. More to come about this new line. Ilania
December 2006
June 2006

Tecia Werbowski's book Loveless Duet will be launched September 2006.
April 2006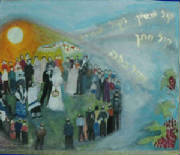 Kol Chatan Ve-Kol Kalah, by Ilania Abileah
Otti sent this note today (April 24th, 2006):
On short (3 days) notice, due to the few days we could get married after Pasach, Janie and I tied the knot on Sunday, yesterday, April 23.
Janie and Otti Seiden
Otti Seiden writes: "How about having a real big family reunion in the near future?"
Note: Thus far we got a few suggestions for Canada (a few agreed already), Israel and the U.S. Summer or automn 2007. Will keep you posted.
Click here to see news about Tecia Werbowski literary activities
Click here to see Connie Gilbert's Report April 2006.
Delores Faye (Cohen) Newman (Z'L)
Marcia Storch sadly informs that her sister Delores Faye
(Née Cohen) Newman passed away on Friday, April 14th, 2006.(B Aug. 5, 1937 - D Apr 14, 2006).


Click here to see photos that Mark Cohen provided - Ada and the boys at the Dragon Boat Races.
March 2006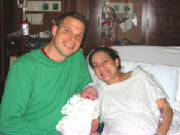 The proud parents are Ben and Deborah Katz.

Miriam Abileah (Z'L), Mother of Ron Abileah passed away this morning in Toronto, Canada. Saturday, March 11th, 2006.
Click here to see page in memory Miriam Abileah
January 2006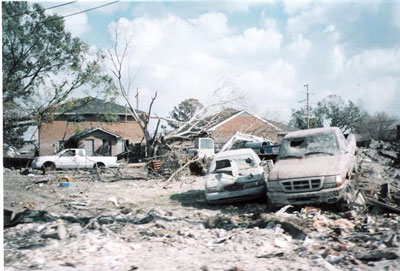 Jerry Solzman sent this photo received from cousin, Susan Levin, sent from her New Orleans neighborhood. Her family is living elsewhere until their house is rebuilt.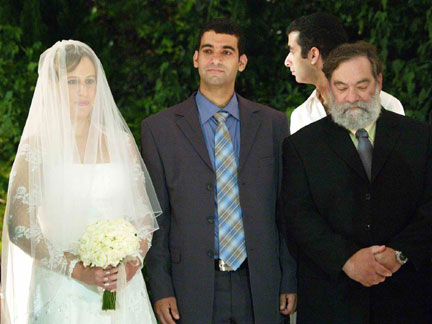 Received from Zwi Yogev November 2005
Congratulations: Rivi Yogev (son of Zwi Yogev) and Efrat Altschuler are married. The wedding took place on August 22nd, 2005, at Baya'ar (an event garden in Hedera, Israel.)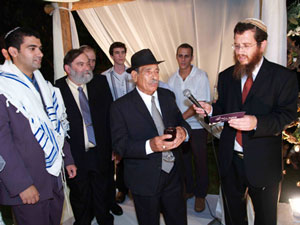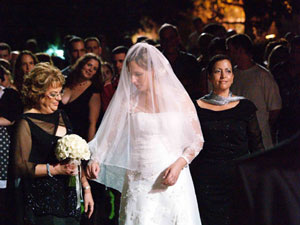 September 2005
Dear family,

Our cousin Henry Russotto, died on September 22 following an illness of several months. Henry was the only child of Leo and Eda Russotto, and never married, so there are no immediate survivors except for the Russotto cousins. He was just a few weeks short of his 73rd birthday.

Henry was a history teacher in the New York City public school system and a great sports fan. He fancied that he would have a career as a stand-up comic, though that never happened.

May his memory be for blessing.

Submitted by: Cecile Arnold



July 2005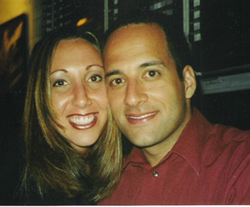 Eric Storch and Jill Frenchman who were married
7/31/05 in Jupiter, FL. (Photo submitted by Jerry Solzman)
April 2005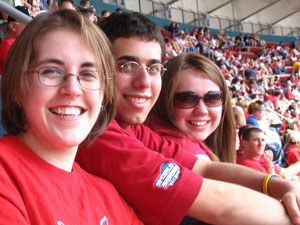 Marc Solzman, trying to cheer on the Cardinals against Philly, at the Busch Stadium, April 9th, 2005. Jerry Solzman (Marc's Father) sent this photo saying "I think the score was 10-4 in favor of Philadelphia."
March 2005
Dr. Allan Brent and Barbara Wolfe sent the following obituary for their parents:
We lost Mom and Dad within 24 hours of each other. They had 62 beautiful years together and passed with each other. They were examples for us all on how to live, how to raise a happy family, how to love each other and how to share eternity together.
June Clara Berman Russotto 5/19/1919 – 3/23/2005
June Russotto, age 86 passed away on March 23, 2005 in Las Vegas, Nevada. June was born in Coalinga, California on May 19, 1919 to Frank and Tillie Berman who both emigrated from Germany in the early 20th century. June graduated from the University of California at Berkeley with a BA in education. She married Dr. Milton Y. Russotto on January 31, 1942. Her beloved husband of 62 years preceded her in death by less than 24 hours. The happy couple lived in Tulare, California during WW II. In the early 1950's they along with their daughter Barbara moved to Los Angeles, California. They completed their family with the birth of their son Brent, and lived a very happy life in Beverly Hills for well over 50 years. June is survived by her brother Joseph Alfred Berman of Coalinga, California, her daughter, Barbara Lyndsey Wolfe of Las Vegas, Nevada and her son, Dr. Brent Russotto Allan, of Paradise Valley, Arizona. She also leaves her 6 loving grandchildren and 3 great grandchildren. June was a devoted wife and a wonderful loving mother and grandmother. She was active in many charity organizations including Hadassah and Foundation for the Jr. Blind. June will be missed by all who knew her and loved her. Funeral services will be held jointly with her beloved husband at King David Memorial Chapel and Cemetery, 2697 E. Eldorado Lane, Las Vegas, Nevada. 89120 on April 3, 2005.
Milton Yale Russotto 3/27/1911 – 3/23/2005
Milton Russotto, age 93 passed away on March 23, 2005 in Las Vegas, Nevada. He was born in New Bedford, MA to Barnet and Florence Russotto on March 27, 1911. While not acutely ill, he unselfishly prepared the way for his ailing beloved wife of 62 years June Russotto by preceding her in death by less than 24 hours. Milton was a graduate of Tilton Prep HS in Connecticut and received his BA degree from Ohio State. While in college he ran track with Olympian Jessie Owens and was Business Manager of the year book. Milton graduated from the Los Angeles College of Optometry at the University of Southern California. He practiced optometry for 10 years in Tulare, California. After WW II, he moved to Los Angeles with his wife and young daughter Barbara where their family grew with the birth of their son, Brent. In Los Angeles, Milton worked as an investment broker for several National Stock Exchange firms. During the 1960's, he established his own business bringing a number of well known companies public. Milton retired from active employment at age 55 and had many years of enjoyment raising his 2 children, playing the piano, working with oils on canvas, and writing. Milton is survived by his daughter, Barbara Lyndsey Wolfe of Las Vegas, Nevada and his son, Dr. Brent Russotto Allan, of Paradise Valley, Arizona. He also leaves 6 loving grandchildren and 3 great grandchildren. Milton was a devoted husband and a wonderful loving father and grandfather. Milton was active with many organizations and charities including the Shriners, LA Children's Hospital, and the Temple Emanuel brotherhood in Beverly Hills. Milton will be missed by all who knew him and loved him. Funeral services will be held jointly with his beloved wife at King David Memorial Chapel and Cemetery, 2697 E. Eldorado Lane, Las Vegas, Nevada. 89120 on April 3, 2005.
The family requests in lieu of flowers donations be sent to:
Milton & June Russotto Memorial Fund, C/o Nathan Adelson Hospice, 4141 Swenson St.
Las Vegas, Nevada 89119, 702-733-0320 (for CC#'s) www.nah.org
or
In Memory of Milton & June Russotto: Camp Charles Perlstein Fund, C/o Temple Beth Israel, 10460 N. 56th St., Scottsdale, AZ. 85253
480-951-0323
March 2005:
Pat Fulmer advises that her mother Catherine Cohen, passed away on March 10th, 2005. She was burried in Jackson, TN, March 20th, 2005.
January 2005:
Obituary

SCHULMAN, STUART M., 78, of Weston, FL, formerly of Aventura, FL, and Louisville, died Friday, January 14, 2005. During his lifetime, he held a number of positions while in Louisville. He served as the executive director of the Naval Ordnance Station, the endowment director of the Louisville Jewish Federation, the deputy commissioner of highways of the Commonwealth of Kentucky and the president of Congregation Adath Jeshurun. In addition, he was a land developer. He is survived by his loving wife of 51 years, Miriam "Mickey" Schulman; a daughter, Katie Greenfield; a son, Sammy Schulman (Ibby); five grandchildren, Jamie and Samantha Greenfield and Brittany, Amanda and Benjamin Schulman; and two sisters, Selma Schulman and Rosalie Herman (Louis) of Louisville. His funeral service will be held at 1:30 p.m. Sunday, January 16, 2005, at Temple B'nai Aviv, 1410 Indian Trace, Weston. The family requests that all memorial donations be made to the American Cancer Society.
Published in The Courier-Journal on 1/16/2005.

Guest Book will remain on line until February 15th.

http://www.legacy.com/Louisville/LegacySubPage2.asp?Page=LifeStory&PersonId=3045726.
December 2004:
Mali & Giora Bendor announce the arrival of their new grand daughter Elena Vivian Shih on Dec. 24, 2004, daughter of Maya & Chris Shish, sister to Nina.
November 2004:
Connie Gilbert writes: Bruce and Lori Gilbert's daughter Jennifer & Hubby Jay Lewis, Welcomed Ellie Dayle and Owen Heath, Nov. 14, 2004 in Scottsdale.
September 2004:
Cecile Arnold advises: The arrival of Elli Sophie! Daughter of Dana & Daniel Russoto, September 21st, 2004.
July 2004:
Connie Gilbert writes: Shad married Jessica Eve Gerson, July 3, 2004, in Hackensack, NJ;
April 2004:
Jerry Solzman reports: Louise (Cohen) Baker died April 24th, 2004 in Louisville, KY on the morning of her great-grandson Max Goldstein -son of Daisy (Baker) and Irvin Goldstein's - Bar Mitzvah. She waited until her family was in town for the event.
February 2004:
Ilania Abileah announces the arrival of her grandson: Tara & Rami Negev are pround parents of Ethan David Negev. Born in Montreal, February 4th, 2004.
Click here to see the Young Negev family website.
Click here to see more pictures of Ethan and his parents.
January 2004:
Deborah (Abileah) Doniach, died in London, England, January 1st, 2004.