Aunt Julie on her 90th birthday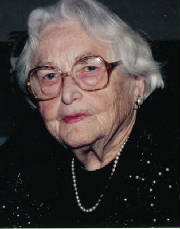 Photo taken by Rami Negev (my son)
In 2003/2004 we lost two dear ladies of the Abileah (Niswitzski) family. Julia Seiden (daughter of Ephraim and Marie Abileah) Died on September 28, 2003, and Deborah Doniach (daughter of Arie and Fée Abileah) died on January 1, 2004.
Here is a picture of Aunt Julie on her 90th birthday and an article about Deborah, provided by her sister Maia Héllès.
Some family members gathered in Kansas City, MI for the unveiling of Julia Seiden's tombstone. My brother Ron Abileah posted interesting photos on his website.