November/December 2007: Had the opportunity to learn a new technique which lends itself to creating miniatures as well as incorporating poetry into useful items. Thus I am embarking on a new line. It will mainly deal with traditional symbols, holiday items and poetry written by some of my friends, as well as beautiful verses from the bible.
Absence by: Percy S. Shelley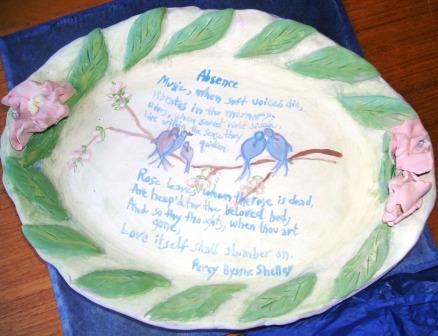 Painted Bisque Ceramic Plate made by hand Nov 2007
Memories are kept with things, which evoke feelings; even the senses of touch, sound and smell. Used items which one hangs on to, are like shelved-away postcards from the past.
Past & Present 3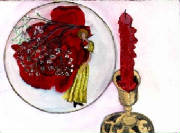 Acrylic on Masonite board, 6 1/2 x 5". Sold
Past & Present 1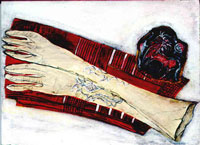 Acrylic on Masonite board, 6 1/2 x 5